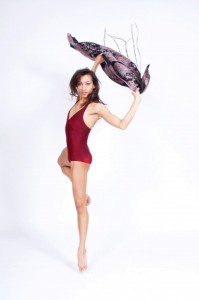 Hi Everyone!  As Chicago grows sunny and warm, the Chicago Dancing Festival's fifth anniversary season is quickly approaching!  All of us here at CDF are energized to bring you the largest most spirited festival yet!  My name is Natalie Williams and I am absolutely honored to be joining the Chicago Dancing Festival team this year!
I come to CDF from the professional dance world where I currently perform with DanszLoop Chicago and Jaxon Movement Arts.  My career began as a member of the children's choir in Joseph and the Amazing Technicolor Dream Coat, starring Donny Osmond at the Chicago Theater.  I later trained on fellowship with the Alvin Ailey American Dance Theater and received a BFA in Dance Performance from Northern Illinois University.  Upon graduation, I relocated to tour nationally with Koresh Dance Company.  Here in Chicagoland I have also danced with Thodos Dance Chicago, Momenta, Inaside Chicago Dance, independently with Francisco Avina, Stephanie Martinez, Autumn Eckman, Jessica Miller-Tomlinson, Jenna Dillon and most recently in Jim Corti's Drury Lane Production of Aida.  After winning first place in two salsa competitions, my wonderful partner Erik and I now travel and perform through our co-founded Firefall Dance Company.
I fell in love with dance because it embodies the magic of the human imagination.  The dance world is an intriguing place where brilliant athletes take the stage and inspire onlookers to contemplate and celebrate the wonders of life.  I am proud to be a part of The Chicago Dancing Festival because it brings that exciting world to Chicago's finest performing art venues… and does so free to the public!
Continue to check in with us often.  I will be posting regularly along with the rest of the CDF team to give you updates on upcoming events and ways you can be a part of this season's action!